New Casino Slots Games
In order for casinos to keep up with the constant demands of their customers and of course competition from other online casinos, they need to add a stream of new slots on a regular basis. There are some of the top software suppliers like Microgaming which commits to releasing 3 new games every month. Not all of these games are slots but there is always at least one slots game amongst its monthly offering. Other software suppliers develop a group of games and release them in one batch together like the Bodog software group who has recently released a number of leading exclusive games like Archipelago slots.
Innovation in New Games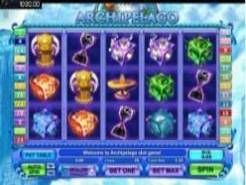 Archipelago slots at Bovada casino is an extremely advanced slots game with 5 reels and 20 paylines. Amongst the reels you will find detailed symbols with rich colors. With every new release the graphics and sound of the slots games improves. Archipelago offers 3 different scatter symbols which offer 3 separate bonus games. When three or more golden cups land on your screen you are awarded 15 free spins. The Magic dish acts as a wild symbol and can take the place of any other symbols to make up a winning line apart from the scatters. The Archipelago symbol is the key to the Spirit of Nature game and when three or more of them land on your screen you are offered to choose between the Wind World, Forest World, Electric World or the Crystal World. These are innovative new ideas and ways to play which have been added to the Bovada casino range of slots.
Higher Jackpots and New Ways to Win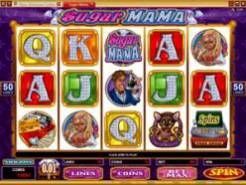 Some of the new games that are introduced offer higher jackpots than ever before and better ways to win. Microgaming are very keen on the new idea of 243 ways to win or more instead of set winning lines but they still have introduced some slots games that offer the traditional winning lines. Sugar Mama is one of the new slots for April 2010 and uses the very popular theme of the rich bitches of Los Angeles. Chihuahuas and credit cards, cash and waiters with carafes of champagne are seen across the screen where there are 5 reels and 50 paylines. There is a bonus game called Boutique bonus where you can pick your favorite gift boxes to see what they reveal and there is the possibility of up to 12 free spins with a 2x multiplier when you land 3 cash registers on the screen. The graphics are rich and clear being accompanied by lively music.
Improved Classic Slots Released Regularly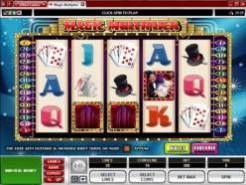 Magic Multiplier is another brand new slots game from Microgaming that has the classic and popular paylines, there are 30 in total. Magic Multiplier is all about card tricks and magicians, with rabbits in the hat, ball tricks, and wands and much more on your screen. There are three potential bonus opportunities in this game which include the chance to win free spins from 3 wheels on your screen. The free spins come with a random multiplier which can give you up to 5x any win made during the free spins. If the curtain symbol lands on reels, 2, 3 and 4 you are taken to the curtain feature game where you can choose a curtain to reveal a prize. The cups game also takes place on a separate screen and can be entered when you land the cups trick on reels 3, 4 or 5. The cups game offers up to a 25x multiplier on the bet placed.
Current Topics for New Slots
New games are constantly being added and often use subjects from current affairs and sporting events. When the winter Olympics ran, there were many new games that related to Olympic sports. With the World Cup coming up, there are plenty of new soccer slots games and plenty more to follow. Online slots are dynamic and have to be dynamic in order to stay attractive to their customers and keep up with the constantly improved technology and changes that there are.