Enchanted Garden Slots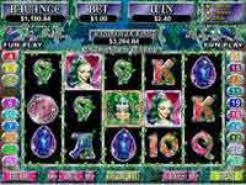 Play Now
Enchanted Garden aims to whisk you away to a fairytale land filled with magic, wonder, and strange creatures. This is one of the prettier games from Real Time Gaming - actually it's so covered in sparkles you could be forgiven for thinking it looks like a little girl's pencil case - but that's exactly the look the designers were going for. Enchanted Garden is part of the Real series, meaning there's a lot more under the hood of this title than just good looks and sweet animation. For example, when you consider that the top jackpot is worth a staggering $75,000, even the most manly slots players might be willing to look past the shininess. Try Enchanted Garden Slots for yourself today - download Enchanted Garden Slots free at our favorite Silver Oak Casino online casino.
Frolics in the Garden
Enchanted Garden is a fun, straightforward game to play; after only a spin or two you'll have the basics down. Essentially, you're looking at a game with five reels, each of which is covered with glittering symbols. Unlike a traditional 3-reel slot, this game has 20 different pay lines that work their way across the reels - see the game's Help section for diagrams of the patterns. You can play as many or as few as you like. Each line you add costs an extra bet, but it also provides an extra chance to win.
Enchanted Symbols
The more common wins in this game come from the 9 through Ace symbols, all depicted as though they're carved from gemstones. These will bring in anywhere between 3 and 250 coins, depending on how you hit them. After that, winning gets easier, because the top end symbols only require a combo of 2 consecutive symbols to pay out. Precious Stones gets you up to 1,000 coins, Butterflies up to 2,000, and the Unicorn will bring in up to 5,000 coins! Keep your eyes open for the Fairy Princess, who substitutes for any symbol and doubles the value of your winnings!
Magical Bonuses
While Enchanted Garden doesn't have a special bonus game, it does feature a fantastic free spins feature that's a great way to boost your bankroll. You trigger it when you land a Garden scatter anywhere on reel 1 simultaneously with a Fairy Princess on reel 5. This earns you 7 spins of the reels on the house, and anything that you win instantly gets tripled! Imagine hitting the Unicorns during this round! This would yield the game's top prize of up to $75,000, depending on your coin bet. The free spins can't be re-triggered while they're running, but if some magical Fireflies show up, they'll add 3 extra free spins!